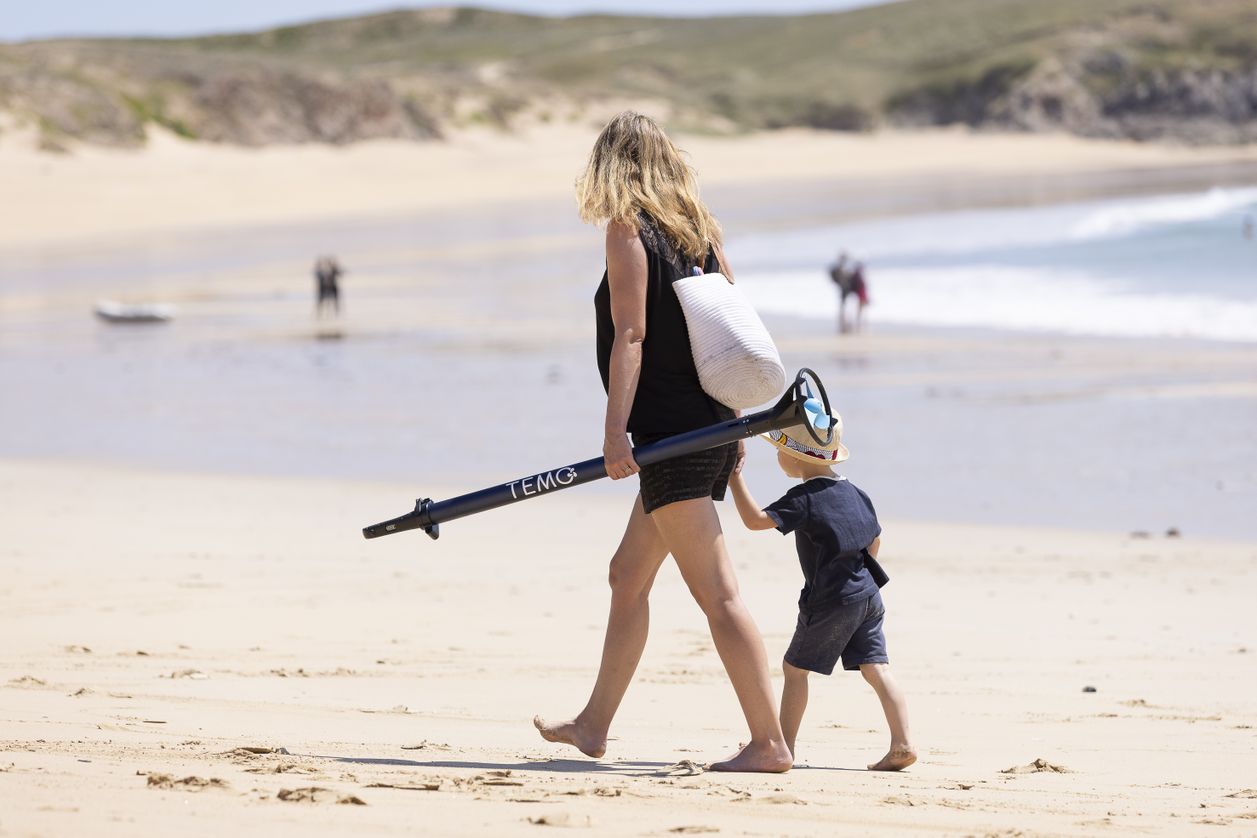 The first solution for electro-portable propulsion.
TEMO·450 is a new electric powered engine for boat.
.
It will make you think of an electric scull or a reminiscent of the famous Thai longtails. We have taken the best of both and upgraded it to offer you a confortable way to reach your boat without getting tired.

SIMPLICITY, ERGONOMICS & PORTABILITY.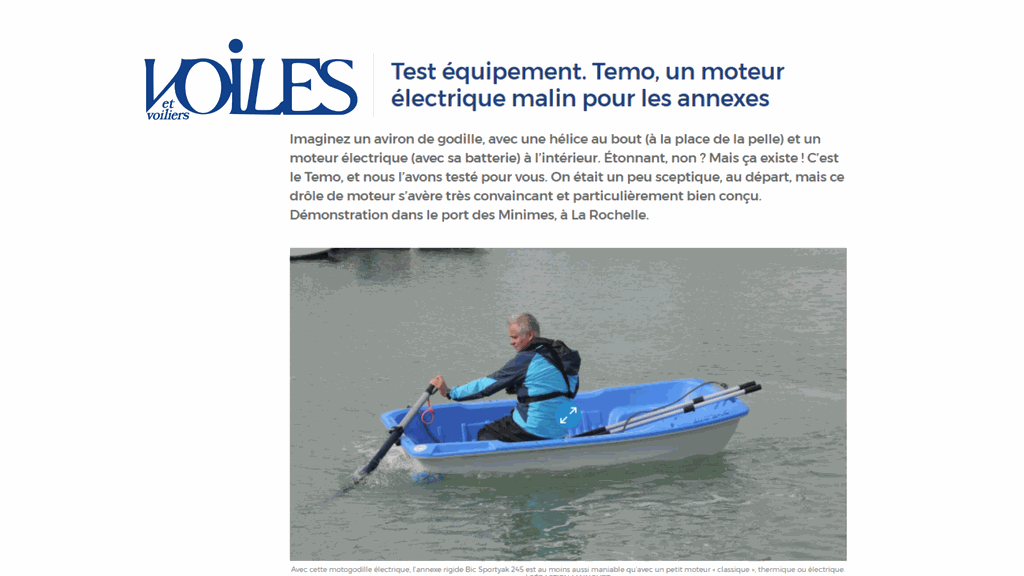 Le TEST TEMO
---
Le test TEMO par le magazine spécialisé Voiles et Voiliers est sorti !
"Il est plus que convaincant" ,"puissance et autonomie suffisantes" et beaucoup d'autres atouts à découvrir dans ce test exclusif !

Découvrez le verdict d'un essai authentique et sans concession.
CUSTOMERS REVIEWS
WHAT ARE OUR USERS SAY
J'utilise TEMO depuis sa première livraison, retardée par le Covid, début septembre et malgré le nombre modeste de sorties effectuées je suis très enthousiaste.
The main asset for me is its power. Indeed, my boat is about 200m from the beach, exposed to west wind, making the exercise sometimes difficult or impossible with oars. I noticed that despite the wind and the rising tide, TEMO brough me without any problem to my boat with a high maneuverability. I did not really have the time to test its autonomy but after5 uses I still don't need to recharge it.
Perso je suis donc très content de cette acquisition.
Christian R.
Tout simplement génial
Emballage super professionnel
Produit de très bonne qualitée
Vraiment léger et la puissance au top
Je viens de le recevoir et je n'ai pas résisté un essai par -4° C et sans mentir j'ai adoré
Utilisation facile même avec des gants la poignée avec la pression du doigt reste super sensible
Le top des tops super investissement un grand merci à toute la Team
Alain G.
+ la poussée est très correcte même avec deux personnes dans l'annexe
+ comme prévu l'encombrement est super
+ bonne réaction du moteur à l'accélération
- la visserie livrée avec Temo pour l'interface de dame de nage est très insuffisante ( vis trop courtes, préférence pour des vis traversantes à écrou, un tableau arrière d'annexe gonflable même petite fait environ 7cm)
Paola G.
Great satisfaction to confirm that TEMO allows me to manoeuvre my First 18 within the harbor with a medium tidel coefficient. I am impatient to keep on testing TEMO in the harbor of Le Croisic.
Pierre M.
Je suis très content du moteur TEMO que j'utilise avec mon annexe en Corse.
Grande qualité du produit. On voit que c'est une fabrication française. La prise en main est très satisfaisante. C'est un bel objet. J'ai été notamment étonné du rapport poids/puissance (4,9Kg pour environ 1,5CV).
I have tried TEMO with a few people on board and we all have the same reaction: it rocks! So far so good. I am looking forward to spring to be able navigate again and use TEMO with my other boats (especially on my WETA catamaran, as second motor ).
Yves D.
Au début j'avais un petit HB de 2.5 CV, mais cela était trop lourd et encombrant.
J'ai donc substitué ce HB par un TEMO 450 qui me donne entière satisfaction.
Le produit est beaucoup plus léger, facile à ranger et très rapidement mis en place.
La puissance est bien suffisante pour une petite annexe, même avec 4 passagers et j'ai constaté que l'autonomie est bien supérieure à 30 minutes. Les arrivées sur une plage sont faciles et sans danger.
Pour ce qui est du produit, c'est un beau produit, compacte, bien fini et tous les composants semblent de bonne qualité
Jean Pierre V.
Christmas came early this year and gave me this magnificent TEMO (because it is a beautiful product too!). It is worth underlining the care that the people of the TEMO team have put into this design, which you can see at first glance that the quality and solidity of the materials used are up to scratch. Even down to the parcel, which is very well protected, one can identify the concern of conscientious and well done work. In the coming weeks I look forward to testing it under real-life conditions on my Bic 245 dinghy. As my anchorage in the Golfe du Morbihan is a few hundred metres from the beach and the currents can be "annoying", I will have a clean, silent and efficient means of propulsion to reach my sailing boat. Thank you TEMO and I will share in the next few weeks the first videos of the tests in situation;
Manuel C.
Cette première prise en main a montré une facilité d'utilisation et surtout le silence dans notre petit paradis (Polynésie Française).
Pour le passage marche avant /arrière c'est fabuleux et permet au non initié de faire un accostage sans soucis .
Belle réussite et cela correspondent totalement à notre attente.
Yann J.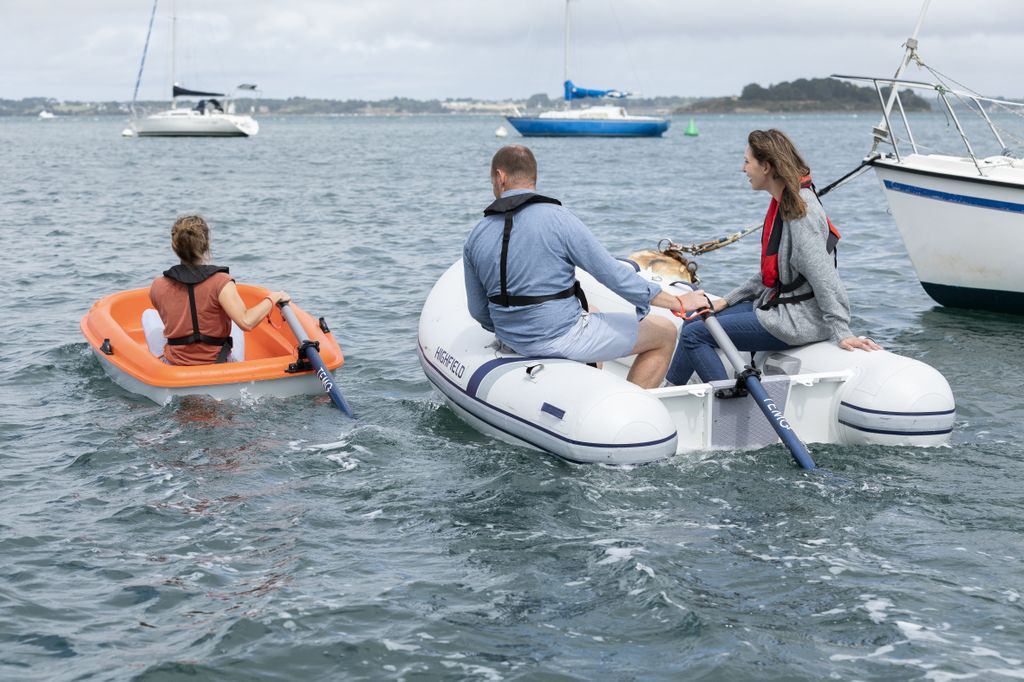 The TEMO crew
---
TEMO is first and foremost a story about enthusiasts and entrepreneurs who have above all the desire to facilitate the practice of yachting and allow everyone to better enjoy their sailing!
TEMO acts
---
TEMO is mobilizing alongside the SNSM (the French Sea Rescue) of Pornic and donates 10€ on each sale of its propeller to the station. Together we support the volunteers who daily ensure our safety at sea and on the coast.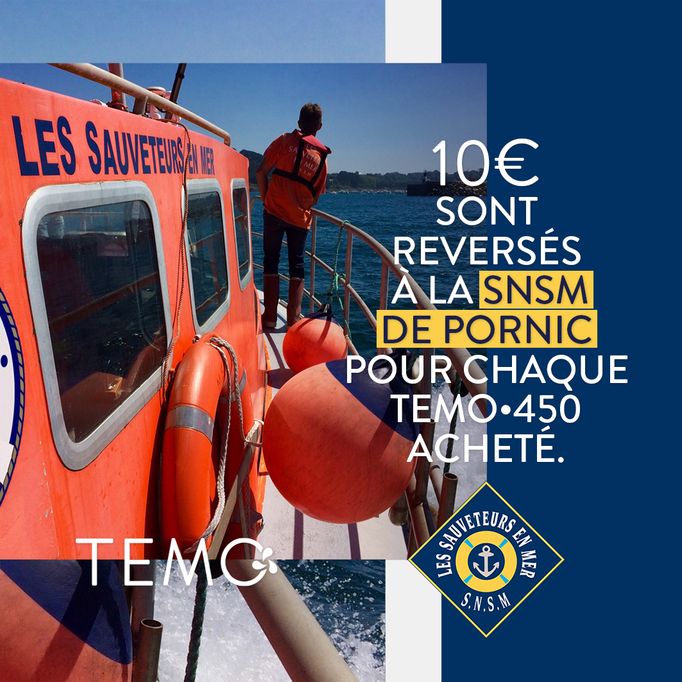 The upcoming TEMO meet-ups
We are very much looking forward to seeing you at the main boat shows and events.

SALON NAUTIC PARIS
Venez nous rencontrer du 4 au 12 décembre 2021 sur notre stand 1 G51