Who makes TEMO electric motors
for boats and dinghies?
At TEMO, we're passionate about the world of boating and sailing's liberating way of life. This freedom is what drives us internally, cultivating well-being at work, a balanced lifestyle, good humour and daily challenges!
We're helming our boat (and our brand) through a relaxed, direct and vibrant approach!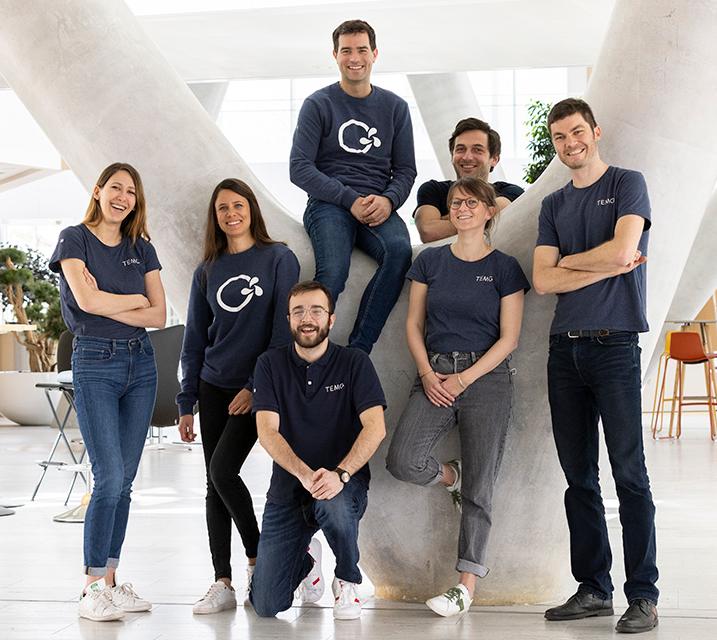 A passion for sailing. The desire to undertake.
The need to provide a solution.

Alexandre Seux
Founder & CEO of TEMO
It was while sailing around the world in 2015 that Alexandre had the idea to create his own brand of electric boat motors. He founded TEMO in 2018 and now pilots the whole design, production and financial sections of the company.


Justine Perussel
Partner, Deputy Managing Director

Partner since the creation of the company, Justine oversees TEMO's sales and marketing development. Her role also includes human resources, administrative and CSR management.

Louise Montis

Administrative and commercial manager

Louise is responsible for the administrative side of the start-up and commercial follow-up of all TEMO customers.

Thibaut Coutansais

Communication Manager

Thibaut puts all his energy and skills into the brand's international influence and TEMO's communication.

Yoann Guerin

Operations Director

Yoann ensures that the products are manufactured and delivered with the highest quality. He heads up the industrialization and logistics side of the company.




Laetitia Buret

Sales Manager

Laetitia manages the brand's entire network of retailers and distributors and ensures an impeccable customer experience.
Antoine Guilbaud

Trainee Sales and Production Assistant

Antoine answers and pampers all TEMO customers and helps with all aspects of TEMO's communication and marketing.
Our nautical experience, our technical skills and our unfailing involvement in our projects make us formidable challengers!
We build and maintain a strong bond with our partners and our customers to better understand their expectations, and to meet these as precisely as possible.

Because we are boaters ourselves, we want to sail alongside you to increase the pleasure of boating and remove the constraints.
Responsibility towards the fragile marine ecosystem, through our actions to help decarbonise boating and promote our local economy.

Respect for this blue immensity, which attracts us and welcomes us.
We seek to preserve this truly awesome environment and these primary sensations using cleaner, more sustainable solutions.
Whether a technician, a marine consultant, a researcher, a communicator or a creative, each member of TEMO is involved in inventing, reinventing and launching simple products and services that facilitate the practice of leisure boating.

Innovative, patented, award-winning design solutions that use electrical technology to sustainably transform the way boats are used

So that boating remains a pleasure:
liberating and sustainable!