Which TEMO electric boat
motor should I choose?

This comparison will help you to choose your electric motor: TEMO-450 or TEMO-1000? Which one will be the best for your boat and your use.

TEMO ● 450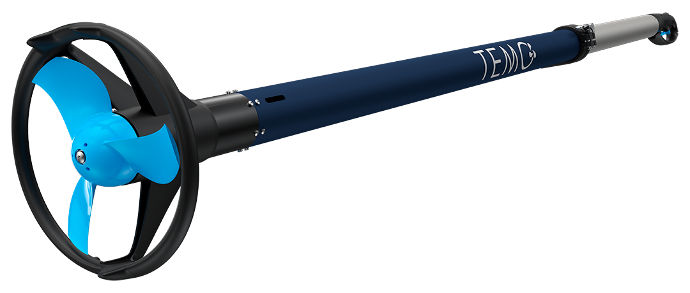 TEMO ● 1000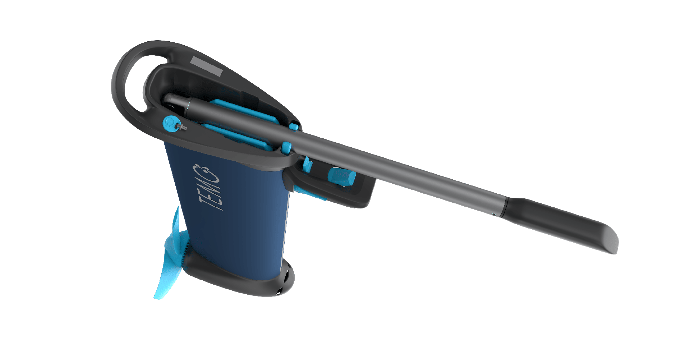 DESCRIPTION
TEMO·450 est la solution de propulsion électroportative par excellence ! Extrêmement léger (5 kg avec batterie intégrée) et télescopique, ce moteur électrique est parfait pour motoriser les petites annexes de 3 passagers, les barques et la voile légère (dériveurs, petits catamarans, etc.). Idéal pour vos transferts au mouillage !
TEMO·1000 est le hors-bord électrique idéal pour les grandes annexes de 6 passagers et les petits voiliers. Portatif (15 kg), puissant et autonome (batterie interchangeable), il propulse les embarcations jusqu'à 8 mètres et rend très facile vos entrées & sorties de port et toutes vos balades en bord de rive.
CHARGE
Jusqu'à 500 kg
Jusqu'à 1,3 tonne

AUTONOMIE
45 minutes à fond, jusqu'à 80 min en vitesse de croisière - Batterie intégrée
60 minutes à fond, jusqu'à 80 min en vitesse de croisière - Batterie amovible

TEMPS DE CHARGE


3h en 220V et 3h30 en 12V

5h en 220V et 12h en 12V
PUISSANCE
450W
1100W
EQUIVALENCE THERMIQUE
1,5 chevaux
3 chevaux
EMBARCATIONS
Annexes (jusqu'à 2m30), barques, dériveurs
Annexes (jusqu'à 3,8 mètres), petits voiliers (jusqu'à 8 mètres)
TIRANT D'EAU
25 cm
35 cm
CONTRÔLE

Marche avant/arrière
Accélération progressive sur gâchette


Marche avant/arrière
Accélération sur poignée rotative

TEMO ● 450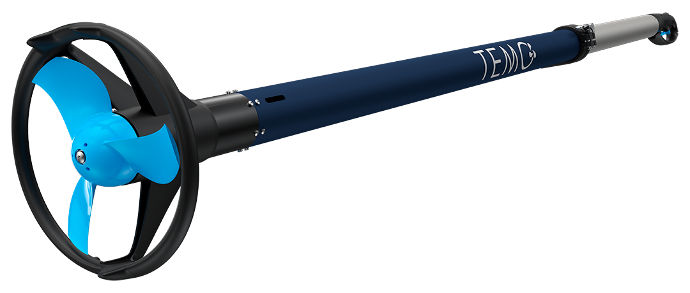 TEMO ● 1000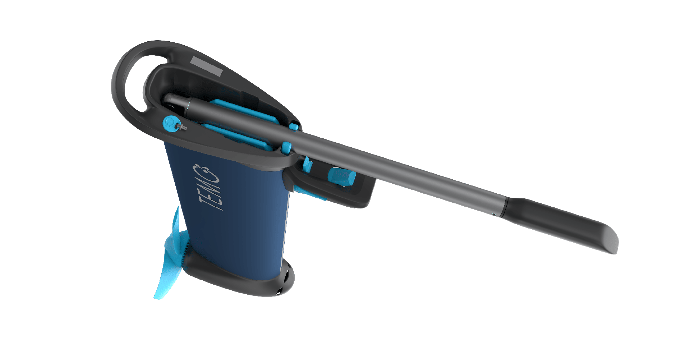 DESCRIPTION
TEMO·450 is the electric propulsion solution par excellence! Extremely light (5kg including the battery) and telescopic, this electric motor is perfect for powering small 3-person tenders, rowing boats and sailing dinghies, small catamarans etc. Ideal for all your transfers at anchor or to your mooring!
TEMO·1000 is the ideal electric outboard for larger 6-person dinghies and small sailing boats. Portable (15Kg), powerful and autonomous (interchangeable battery), it propels boats up to 8 meters in length and makes it very easy for you to get in and out of harbours and for any inshore trips.
Load

Up to 500 Kg
Up to 1.3 tonne

AUTONOMY
45 minutes – Integrated battery

60 minutes – Removable battery

CHARGING TIME

3H30 with 220V, 12 or 24V

5h with 220V and 12H with 12 or 24V
POWER
450W
1100W
PETROL/GAZ EQUIVALENT

1,5 HP
3HP
TYPES OF VESSEL
Tenders (up to 2.30 m), rowing boats, sailing dinghies
Tenders (up to 3.8 m), small sailing boats (up to 8 m)
DRAFT
25cm
35cm
CONTROLS

Ahead/astern
Progressive acceleration on trigger


Ahead/astern
Acceleration on twist grip

TEMO ● 450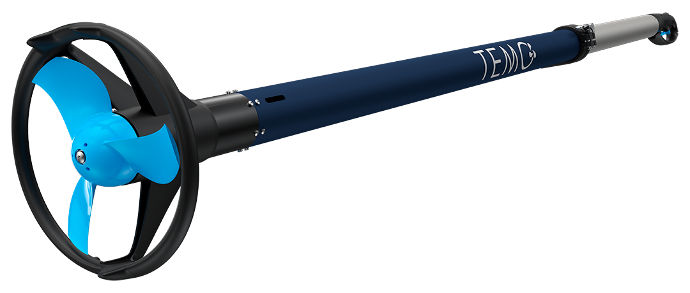 TEMO ● 1000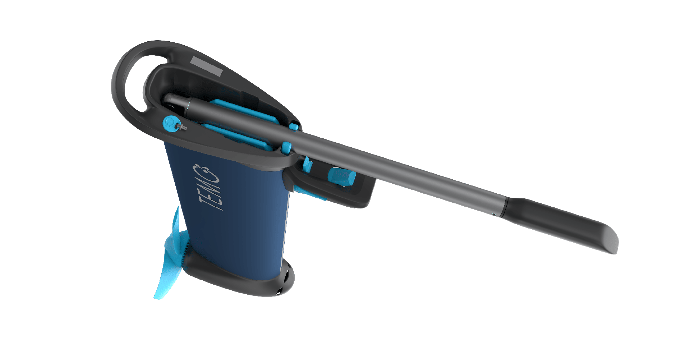 BESCHREIBUNG
TEMO·450 ist die ultimative elektro-portative Antriebslösung! Dieser extrem leichte (5KG mit eingebauter Batterie) und teleskopische Elektromotor ist perfekt für den Antrieb von kleinen Beibooten für 3 Passagiere, Ruderbooten und leichten Segelbooten (Jollen, kleine Katamarane usw.). Ideal für Ihre Transfers am Ankerplatz!
TEMO·1000 ist der ideale elektrische Außenborder für große Beiboote für 6 Passagiere und kleine Segelboote. Er ist tragbar (15 kg), leistungsstark und autonom (austauschbare Batterie), treibt Boote bis zu 8 Metern Länge an und macht das Ein- und Auslaufen in den Hafen und alle Ufer-Ausflüge zum Kinderspiel.
BELASTUNG
Bis zu 500 Kg
Bis zu 1.3 Tonne

AUTONOMIE
45 minuten - eingebaute Batterie
60 minuten - abnehmbare Batterie

LADEZEIT


3h bei 220V, 12V/24V

5h bei 220V - 12h bei 12V/24V
LEISTUNG
450W
1100W
THERMISCHE ÄQUIVALENZ
1,5 PS
3 PS
WASSERFAHRZEUGE
Beiboote (bis 2m30), Ruderboote, Jollen
Beiboote (bis zu 3.8 Meter), kleine Segelboote (bis zu 8 Meter)
TIEFGANG
25 cm
35 cm
STEUERUNG

Vorwärts-/Rückwärts- Gang
Progressive Beschleunigung am Drücker


Vorwärts-/Rückwärts- Gang
Beschleunigung am Drehgriff